Bucks Posts
May 13, 2013
Bucks Ideal Offseason and Rebuild
It's well documented that this is a crucial offseason for the Milwaukee Bucks franchise. A sub-.500 playoff berth, lifeless finish, discombobulated roster and struggling front office has the team in a vicious cycle of mediocrity.
The Bucks will have yet another mid-round draft pick. Although there is value to be found there, they won't have a shot at any stars. This is a league where you need stars.
With just
seven of 15 players
under guaranteed contracts next season and an open head coaching position, there is opportunity for the franchise to due a major overhaul.
There are some good pieces in place for the Bucks, but the argument to "tank" seems more appealing to the die-hard Herd who worry the cycle of mediocrity will only continue to rear its ugly head. But can the Bucks survive as a franchise in Milwaukee if they're irrelevant for two or three years?
They just might have to (Hopefully the BMOHBC lease to 2017 will encourage this).
A total rebuild means two things to me: 1) Get younger, and; 2) get pieces you can build around long term. I have come up with my ideal offseason plan for the Bucks to rebuild, but to maintain just enough hope and excitement (while still tanking) to keep the franchise in Milwaukee.
Step 1: Let them walk
Monta Ellis can opt out of his contract for next season, and rumors have suggested he will due so since he first came to Milwaukee in the Bogut trade. Brandon Jennings is a restricted free agent who's guard heavy draft class has set high salary standards (a la
Steph Curry
and
Ty Lawson
). Gustavo (Goose) Ayon also has a team option for next season. Despite
conflicting reports
, he seems to be alright with staying in Milwaukee.
Samuel Dalembert, JJ Redick, Mike Dunleavy, Joel Pryzbilla, and Marquis Daniels are all free agents.
They only players I would bring back in this entire group is Dunleavy and possibly Daniels, for reasons to be explained later. Put simply, they'll be cheap and play a position that the Bucks will be weak at.
I could see some type of sign and trade deal with Jennings, which I would be OK with as well.






Step 2: Get Tyreke Evans
News around the league seems to suggest the Kings are
keen on resigning
their former ROY, but there may be some cap issues that forces a divorce. Evans is a restricted free agent, like Jennings. Perhaps a sign and trade might help them pry Evans out of Sacramento, but the best bet is to hope the Kings don't match an offer for Evans.
Evans is projected to make somewhere between $10 million and $12 million, so the Bucks will probably have to offer $12 million or higher to have a shot at snagging Evans.
Evans is a 6'6", 220 lb. guard who has had more success at PG than SG. He is a poor shooter, but is quick, strong, and a great ball handler capable of creating for himself and teammates. He's just 23 years old and can be an integral piece the Bucks build with, but maybe not around. Evans does have potential to be the kind of dominant star you need, though, which gives the Bucks a little room for mistakes.
Step 3: Tyreke Evans and OJ Mayo
Where Evans struggles to score, Mayo succeeds. He has cut a nice niche for himself as a sixth man/scoring spark. The Bucks can offer him a starting spot.
Mayo is projected to make $5 million to $7 million this season, and with a number of suitors already interested he'll probably come on the high side.
Evans and Mayo combined are far more efficient offensively than Jennings and Ellis, and seem to be better in every other way. See the players advanced stats side-by-side
here
.
Evans and Mayo don't score like Jennings and Ellis do, but their Usage Rate is much lower. Per 36 minutes, they're only 2.8 points behind Jennings and Ellis, and they more than make up for that defensively and on the glass.
The only major drop off with Evans and Mayo is the assists, but Evans' numbers were much better before he was moved to SG.
This article from B/R
suggests he can be a premier distributor.
Instead of having the smallest backcourt in the league, the Bucks could be good size. To go with Evans massive frame, Mayo is a solid 6'4", 210 lbs. Defensively, Evans/Mayo offer more height and strength than Jennings/Ellis by a long shot.
Lost in all these stats, the Bucks would simply be getting younger with these guards, and probably spending a little less money than they would have to in order to keep Jellis (see what I did there?).

Step 3: Make sure you lose a lot in 2013-2014
By now the roster is shaping up something like this:
PG: Evans (Ish Smith)
SG: Mayo
SF: ?
PF: Ilyasova (Henson, Udoh, Mbah a Moute, Gooden)
C: Sanders
We have definitely achieved goal number 1 (getting younger), but there are massive holes in the roster and we're still looking for the player to build around.
If there was ever a year to be really bad, 2013-2014 is it. The
2014 draft class
might be 20 deep with solid NBA contributors, and is
stacked
at the top with future household names like Andrew Wiggins, Julius Randle, and Jabari Parker. If the Bucks can manage a top five pick in this draft, they could find their centerpiece.
Draft smart
The Bucks don't need to draft to fill positions, especially if they want to tank. What's more important is that they
find talented players
. The only position I would avoid is PF, there is an overpopulation there already.
A guy like
Glen Rice Jr
. may be a good fit at SG to add some depth.
Gorgui Dieng
could be a good talent at C as well. Allow yourself to have a number of talented prospects to assimilate with whatever future star you find.
Filling out the roster
You still need to play in 2013-2014, so you'll have to field a team. I would work it this way:
| | | | | |
| --- | --- | --- | --- | --- |
| | Player | Salary | Age | Position |
| 1 | Ersan Ilyasova | 7900000 | 25 | PF |
| 2 | Drew Gooden | 6687400 | 31 | PF |
| 3 | Luc Mbah a Moute | 4588384 | 26 | PF |
| 4 | Ekpe Udoh | 4469548 | 25 | PF |
| 5 | Larry Sanders | 3053368 | 24 | PF/C |
| 6 | John Henson | 1905360 | 22 | PF |
| 7 | Ish Smith | 910491 | 24 | PG |
| | | | | |
| 8 | Tyreke Evans | 11000000 | 23 | G |
| 9 | OJ Mayo | 7000000 | 25 | SG |
| 10 | Mike Dunleavy | 4000000 | 32 | SF |
| 11 | Rookie 1 | 1500000 | 20 | |
| 12 | Rookie 2 | 650000 | 20 | |
| 13 | Randy Foye | 2500000 | 29 | G |
| 14 | CJ Miles | 2500000 | 26 | SF |
| 15 | Marquis Daniels | 1000000 | 32 | SF |
| | Projected Salary | 59664551 | | |
The Bucks spent just over
$60,000,000
last season, so the "Projected Salary" here could work.
The salaries of our two draft picks (Rookie 1 and Rookie 2) are based on last seasons rookie salaries.
Players 1-7 are under contract next season, so barring a trade or some other odd event they'll be on the roster. 10-15 are just players to populate the roster and fill out every position. Dunleavy is a great veteran and a good contributor for his price, and Daniels is dirt cheap. Keeping those guys around will help add some continuity to a team that will look drastically different.
Foye makes sense as a free agent signing here because he's cheap and he's a combo guard. There is little to no depth at the guard position, so he can help fill multiple roles for the time being. CJ Miles is young and has some ability, he's worth giving a shot and helps fill out the SF position.
Your thoughts?
I am no Advanced Stats expert or contract guru, so if I screwed something up, leave a comment! I've heard great ideas about moving Ersan to Washington for a higher pick. What are some ways this plan works, what are some ways it doesn't?
-Zack
Follow us on Twitter @WisSportsPulse
January 23, 2013
Why Jim Boylan will make John Hammond look like a genius
#Bucks have a long streak of winnable games ahead. Hammond might look like a genius at the end of this just because the #Bucks beat nobodies
— Wis Sports Pulse (@WisSportsPulse) January 8, 2013
I posted that tweet the day Jim Boylan was named interim head coach. It's time to back it up!
As we all know, Scott Skiles and the Milwaukee Bucks
agreed to part ways
late at night on January 7
th
. At the time he was 16-16, .500, but on a four game skid.
Scott Skiles and the Bucks agreed to part
ways on January 7th.
16-16. Average. It's about what most expected out of this Bucks team: mediocrity.
Reports say that Skiles didn't like the
makeup of his roster
and had
wanted a buy out
before the 2012-2013 season even began. That being said, it would seem as though Skiles ultimately made the decision to leave. That would make sense, seeing as the lackluster Milwaukee organization seems to have been happy at .500.
Jim Boylan, long time assistant for Coach Skiles, took control of the Deer on an interim basis. Though it seems as though it was Skiles' decision to leave, the average fan looks to GM John Hammond for this decision. In the end, it's Hammond's job that was still on the line. In the final year of his contract, he needed to win (or in the Bucks case, be anywhere at or above .500) to keep his job. HE agreed to part ways with Skiles and HE named Boylan head coach.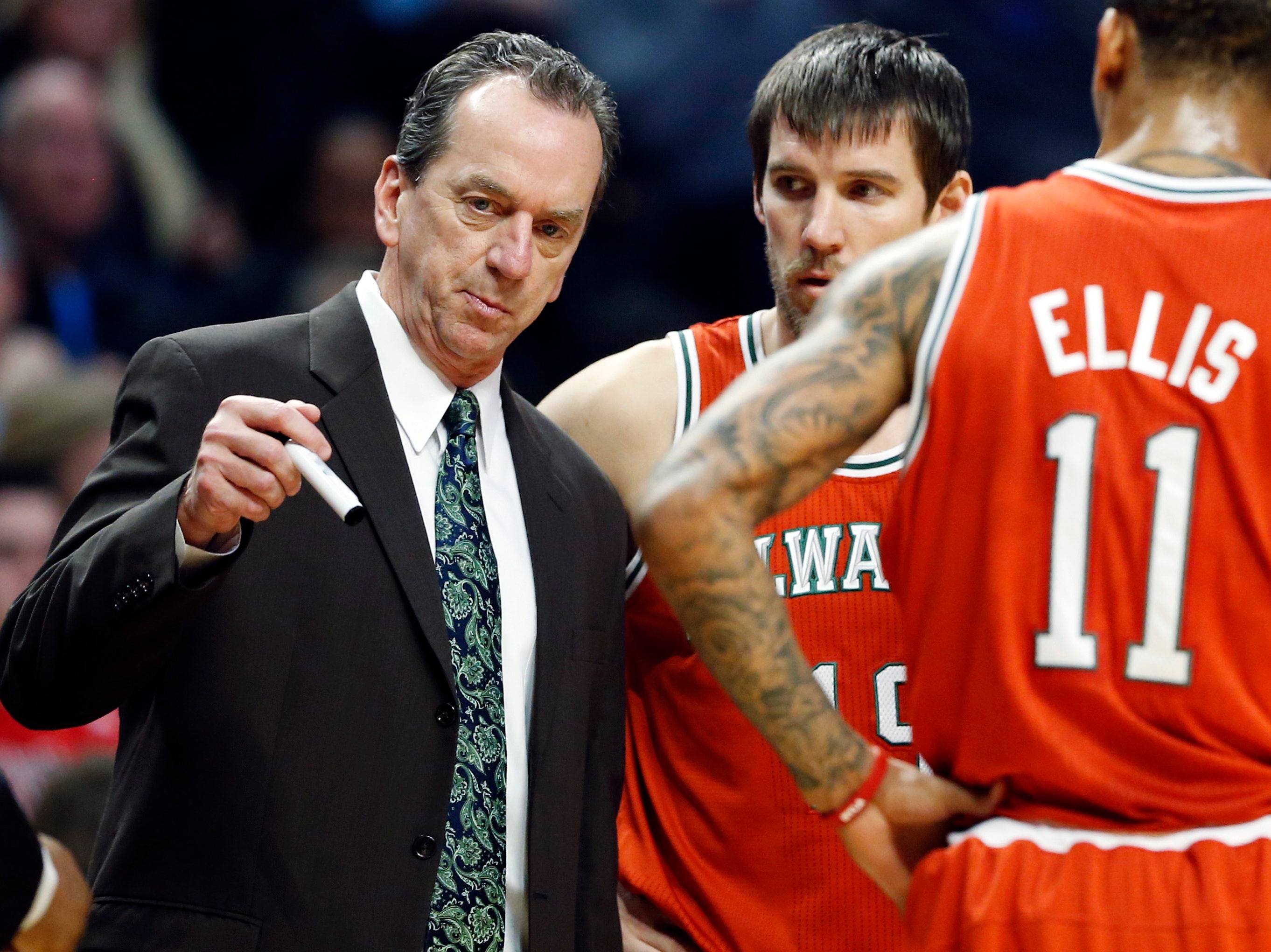 Jim Boylan assumed the head coaching position
on an interim basis
It saved him his job. Today (it's January 23
rd
when I'm writing this) we learned that John Hammond's contract as General Manager of the Milwaukee Bucks has been
extended for three years
. Much like in the Skiles scenario, I'm not sure how I feel about this yet. I do know one thing, though: Jim Boylan will make John Hammond (and now the Bucks organization, coincidentally) look like a genius.
As I stated earlier, the Bucks were 16-16 when Skiles elected to leave the team. Average. Not bad, not good. Well, it wasn't too bad from my point of view, considering the opponents they faced are a combined 661-655 (.502 winning percentage, based on teams records as of January 23rd). They were playing decent opponents and were still able to keep there head above water.
But Skiles left anyways. And Jim Boylan stepped in. Out of the gate, he's 6-2. We struck gold! Or is it
fools gold
? The eight teams Boylan's Bucks have faced thus far are a combined 135-193 (.412 winning percentage).
So, what you're saying is that the Bucks will still be mediocre in the long term?
False. Remember the title? Jim Boylan (or, I suppose, the Bucks schedule) will make John Hammond (and, I suppose, the Bucks organization) look like a genius.
John Hammond's contract with the Bucks was
extended for three more seasons.
The schedule doesn't get much more difficult from here on out. There are 42 games yet to be played. The teams on the Bucks schedule for those games are a combined 851-869 (.495 winning percentage). Yes, it's only a slight change from the teams Skiles faced earlier in the year, but it's still below .500. Put simply, THE TEAMS THEY PLAY LOSE MORE THAN THEY WIN. That bodes well for Jim Boylan, John Hammond, and everyone upstairs.
By firing Scott Skiles and naming Jim Boylan head coach, and by extending John Hammond's contract, the Bucks organization will look awesome when the Bucks finish 6th-7th in the East (hooray for mediocrity!). John Hammond will be everyone's hero for sticking to this amazing (*sarcasm*) roster he built and for promoting Jim Boylan. And Jim Boylan will feel accomplished, then become an assistant coach again.
Of course,
injured players
will be returning and other players will become injured,
yadda yadda
, but based on the numbers, the outcome of this Bucks season may be better than we expected, much to the chagrin of Scott Skiles.
-Zack
November 29, 2012
Catch Up
What's up? It's been a while.
While I've been silent, the Bucks have been making plenty of noise.
So how about we talk about them?
A buzzer-beater three by Jennings in the home opener (a game I should have been blogging at for the Bucks "Fan Blogger" contest....can't let it go). A blown game in Charlotte that began a three game skid. A comeback OT loss in Miami. Most recently, a 27 point comeback win over the Bulls featuring the bench (Doron Lamb!).
It's been a season of ups and downs for the Bucks. At 7-5 they find themselves 1.5 in front of the Bulls for first place in the division. So where do they stand? How have we gotten here?
5 Good Signs
The Bucks have shown some great resiliency, most notably in their comebacks against the Heat and the Bulls. The Heat jumped out to an early 18 point lead in the first half of that game. The Bucks closed the half strong; a three by Dalembert (first of career) made it 44-46. It was Brandon Jennings that kept them alive in that game. Against the Bulls, it was the bench that fought back for the Deer. With just over 3 minutes remaining in the third quarter, Skiles replaced his starters with Udrih, Lamb, Dunleavy, Ilyasova, and Udoh. The reserve group got back 27 points and eventually won that game 93-92.
Brandon Jennings must feel something for Monta Ellis. Going into the season, there was worry that the two couldn't coexist together. All the "big brother-little brother, meeting together, living in the same apartment complex" stuff didn't do it for me. I wanted to see it on the court. Some saw Brandon Jennings shove on Bradley Beal as a cheap shot, but I saw it as proof. In the final 20 seconds of the Bucks win over the Wizards, Monta Ellis was fouled hard on a breakaway layup by Bradley Beal. Brandon Jennings raced into the frame and shoved Beal to the ground for his hard foul. Smart play? No. But I liked it. Even if it doesn't prove that they can coexist, it does tell me that Jennings has some feelings of camaraderie for Ellis. Also, Jennings affectionately calling Ellis "Tay" is cute.
Samuel Dalembert has been everything we expected. The Bucks needed a presence down low. They resigned F Ersan Ilysova and drafted F John Henson. The biggest impact, though, was the upgrade at the center position. Samuel Dalembert has helped the Bucks improve their interior defense and rebounding. Last year, the Bucks had a 48.7 REBR, good for 26th in the NBA. They are 17th this year with a 49.4 REBR.
I was worried that Skiles wouldn't be able to coach a fast pace game and would waste the quickness and talent of his backcourt. I was wrong, though. The Bucks are 2nd in the NBA in pace, using 97.3 possession per game.
With their increased pace, the Bucks have been able to continue to take care of the ball. Jennings is a master at retaining the rock, and has continued his retention skills (this article is going downhill fast...) this season. The Bucks rank in the top 5 with a 12.5 turnover ratio. Jennings also leads the league in steals (, which only helps the Bucks cause.
5 Bad Signs
#EllisLastSecondThrees I invented that hashtag. Not very creative, I know. It speaks volumes, though. The Bucks seem content to settle for outside shots and contested jumpers at the ends of games. Ellis scored 31 points in the Bucks 102-98 loss to the Bobcats, but struggled to score efficiently at the end of the tight game. Similarly, with the Bucks final shot and a chance to win the game in Miami, Ellis pulled up for a contested three pointer that missed. The Bucks lost that game. Again, against the Bulls on Friday he settled for a three pointer in the final minute of a close game. He missed, and the Bucks dropped the game 96-83. The fourth consecutive game, in Chicago against the Bulls, Ellis had the last Bucks attempt of the 1stand 2nd quarters. Both were three pointers that missed. He's a 19% three point shooter. He needs to use his quickness to score in clutch time, not his subpar shooting ability.
The Bucks don't shoot free throws. This became very evident in Friday's contest with the Bulls. The Bulls were 25-26 from the line while the Bucks were just 7-10. The Bucks attempt the second fewest free throws per game in the league (18.2).
They might be too flamboyant. It seems to me (opinion coming) that the Bucks got high on themselves very quickly. A blow out of the Celtics in the opener and a game winning three had Milwaukee hyped. Jennings was playing phenomenal basketball, as was Sanders. Jennings and Ellis were working together brilliantly. But they bought it. To me (again, opinion here) the Bucks are worried about highlights and stats because they think they're a really good team. They are not a really good team. Don't get me wrong, they're good. They have the potential to make the playoffs and even to make a little noise. But they aren't a top tier team, not by any means. The only way this team makes a name for themselves is if they can do the little things night in and night out.
The Deer are right about in the middle of the pack (pun) when it come to three point attempts. They attempt 19.1 threes a game. This was great at the start of the year when Jennings was shooting well and Dunleavy had something like a .999% from long range. But now that the shooting has cooled off, it has really cooled off. The Bucks have dropped among the worst in the league in the 3P%, shooting a measly .29%. With their size and their playing style, they need to shoot better from distance.
Playing time. Playing time, playing time, playing. Deepest team in the league. Period. Ok, I'll start using complete sentences, but you get my point! The Bucks are deep. I am comfortable with almost (*cough* Przybilla) anyone in the game. But after John Henson's coming out party and Doron Lamb's recent success, where do you give time to keep everyone happy? How does Lamb fit in with Ellis and Jennings? When does LRMAM get minutes and what does that mean for Harris? How do you handle Ersan's struggles? When Drew Gooden returns, how does he fit in with all the forwards? These are tough questions that I don't think I can answer (see earlier post on rotations), but I am hopeful that Skiles can. That hope may be wishful thinking, as I always struggle to understand how he gives minutes and why his rotations are as they are...but I digress.
Don't give up on the Bucks. Already this season we've had our ups and downs. This team has too much talent to ever go away easily. There are going to be nights, or even just minutes, where they will wow the pants off of you. There will also be nights where you want to turn the channel and watch Honey Boo Boo instead. My plead for you is this: keep the game on and keep believing in this team.
Go Bucks!
-Zack
Follow us on Twitter @WisSportsPulse
Stats from nba.com and espn.go.com
October 23, 2012
The Bucks Thus Far
The Bucks entered the season as one of the most intriguing teams in the league, and have thus far lived up to the hype. Six games into the preseason, they are still working out lineup and playing time bugs. Despite being just 2-4, the Bucks have been close in every contest. The duality of this team is exciting at some points, and enraging at others.
Positives
Unlike a lot of other fans, I have been very impressed with Samuel Dalembert. Upon his acquisition, I expected an old, immobile, one-dimensional shot blocker, but I have seen much more. As advertised, Dalembert has been good defensively, but he has also shown promise on the offensive end of the floor. His outside shot has been a bright spot in his game (not great, but it's evident) and he's shown some hustle and youthfulness around the basket.
Another positive has been the outside shot of Brandon Jennings. Jennings is shooting 41% from long range, despite an 0-6 night in Toronto. Monta Ellis has also been sharp from deep, shooting an impressive 47%. This, however, will also be a negative to be discussed later in this post.
Negatives
The Bucks have been terribly inefficient as a team and can not seem to win tight games. One major disappointment of mine that has, in turn, led to their inefficiency has been the infatuation with the outside shot. Sure, the Bucks have been shooting alright from the three point line, but I expected the Jennings-Ellis tandem to increase each others eFG% by getting out in transition or slashing to get easier buckets. Both players have the ability to get in the paint, and get to the line, consistently, yet the settle for lower percentage jumpers. So far, the offense has looked disjunctive.
Potentially-Derailing
Alright, Coach, what do you have for us? Scott Skiles is notorious for his defensive minded play, but that is far from what we've seen from this team. We knew the small guard combo would have problems defending, so the Bucks went out and improved the front court with the additions of Dalembert and Henson (oh, and Pryzbilla....almost forgot). Still, the defense has been sub-par. The Bucks have given up 100.8 ppg in their four losses. This would make them 27th in the league last year.
Perhaps the most glaring hole in the defense is the poor defensive play of the guards. Opposing guards are averaging over 48 points a game in Bucks losses. It has been difficult for the Jennings-Ellis duo to stay in front of anybody, despite the opponents size. Even Nate Robinson put up 24 points. Coach Skiles and the Bucks need to find a way to combat this struggle.
Despite all this, the Bucks could still be in for a good season. They have played very well at times, and are as deep as any team in the league. They have yet to play a game with a full roster, which may have hindered them at the end of tight games. Also worth mentioning, the L.A. Lakers are 0-6 in this preseason. It's only preseason, the real stuff starts November 2!
-Zack
Follow us on Twitter @WisSportsPulse
Stats and information from:
nba.com





October 8, 2012
Bucks Rotation
With the NBA preseason kicking off for the Bucks on Tuesday, I wanted to offer some rotation ideas. But then I looked at the roster. How deep are the Bucks?!
I love this roster, and think they can make noise this year (though I am notoriously a homer...). I will offer, in some unorganized manner, what little rotation ideas I gleaned looking at Alex Boeder's article on eFG% (http://on.nba.com/Oye1wG).
Starters

Jennings, Ellis, Illyasova, and Dalembert are all but locks to start for the Bucks this year, but who will start at that SF spot? My immediate thought was Mbah A Moute (LRMAM) because he makes an otherwise average defensive lineup a good one. But reports of LRMAM's slow recovery from his off-season knee surgery may cause him to be bumped from the starting group for a bit. Fans want to see Harris get the nod because of his upside and his head turning performance in summer league, but I disagree. Jennings and Ellis will see the majority of the touches in the starting group, and both have below average eFG%. To help make the starting group more efficient and productive, they need another player with a high percentage, someone like Mike Dunleavy (who led the team) over Harris who had an average eFG%.




First In

If/when LRMAM rejoins the starting lineup, then Dunleavy is the clear 6th man in my opinion. With Dunleavy in and Udrih spelling one of the guards, you can afford to use Gooden, Sanders, or Udoh. Udrih had a below average eFG% last year, but has been well above average four of his six NBA seasons, and as playing team increases so will his output (http://bit.ly/Q607UC). The aforementioned forwards, however, have poor eFG%, but offer a lot to the Bucks defense and depth. Getting those guys in the game with an effective scoring group will keep the Bucks offense and defense well balanced.




Marquis Daniels

It looks like the Bucks intend to use Daniels primarily as their defensive off-guard. This not only gives the Bucks better defensive options by position, but it also increases minutes for Daniels and Harris, who is fighting for time in a crowded forwards group.




All These Forwards...

The Bucks have too many power forwards. Period. Illyasova, Gooden, Henson, Udoh, and Sanders will be looking for minutes at the position. Illysavoa has the new, big contract so he'll be the favorite for time there. Gooden should get time as the backup center, but will see good time at the PF spot as well. Hopefully, Henson will make the transition to the NBA and be a great backup option at PF, but that remains to be seen. Udoh is a good option as a deeper bench backup and I'm comfortable with him getting some minutes, but not extended time. Sanders is a great athlete and looks to be much improved this season, but I still don't think he's poised for a break out season any time soon. At this position, he should see limited minutes. He may see some time at center.




But the Forwards...

Much has been made about the Jennings, Ellis guard tandem. As they go, the team will go. I agree. Unfortunately, according to last years stats, the guards had the worst combined eFG% by position. The small forwards had the best combined average. Look for Skiles to find ways to get these guys (LRMAM, Dunleavy, Harris) minutes and integrate them into the offense.
Also, let it be known that I am a big fan of Doron Lamb and think he should get a bunch of time. He's going to be a good role player for the Bucks, and wherever he finds himself in the NBA in his career.
-Zack
Follow us on Twitter @WisSportsPulse
Stats and information from:
September 2, 2012
The Young Bucks
This season may be "playoff or bust" for GM John Hammond and head coach Scott Skiles, who are both entering contract years, but it is by no means the case for the rest of the team. Sure, the Bucks would like to get back to the playoffs, but so would every team. What I'm saying here is this: if the Bucks don't make the playoffs this year, don't give up on the team and blow it up. Here's why...
The Bucks are young. If, by the end of this year, John Henson would make the starting lineup at center (doubtful, but for the sake of my argument we'll roll with it), their lineup would consist of Jennings (age 23), Ellis (27), Harris (20), Ilyasova (25), and Henson (22). (All the ages listed here are the player's ages at the end of the 2012-2013 NBA season). That is a young team with a ton of talent and upside.
Not only is their starting line up young, they have a relatively youthful bench at each position as well. At the guard position, rookie Doron Lamb is just 21. At the forward position, Udoh is 25, Sanders is 24, and Mbah a Moute is 26. That's youthful depth at every position.
The addition of veteran contributors at every position is why I think the Bucks will not only be good for years to come, but will make the playoffs this year. True point guard Beno Udrih is 30, forward/guard Mike Dunleavy is 32, forward Drew Gooden is 31, and centers Samuel Dalembert and Joel Przybilla are 31 and 33.
If the Bucks can stay healthy, I think the Deer are to be Feared once again. I will boldly predict them to be 6th in the East this year.
-Zack
Follow us on Twitter @WisSportsPulse
July 6, 2012
Bucks Offseason
The Bucks are close. They're about 2 solid contributors away from being a legitimate playoff team. Here's a look at the current roster:
PG's: Brandon Jennings, Beno Udrih
SG's: Monta Ellis, Doron Lamb
SF's: Luc Richard Mbah a Moute, Mike Dunleavy, Tobias Harris
PF's: Drew Gooden, Larry Sanders, Ekpe Udoh, John Henson
C's: Samuel Dalembert
Priority #1 is re-signing F Ersan Illyasova, but so far it sounds like Ersan is more than willing to pack up and leave Milwaukee. If the Bucks can't resign Illyasova, they can turn to SF Carlos Delfino, but I'd be content if they let him go too.
WITH Ersan, their predicament is pretty good. If free agent SG O.J. Mayo is cheap enough and willing to come off the bench, the Bucks should give him a look. A bigger signing like that will prohibit the Bucks from signing any other big name free agents. If they add Mayo, they can move some of their 1,000 forwards. Drew Gooden's value is probably at his highest since the Bucks acquired him. Veteran Gooden and young shot blocker Larry Sanders may have some decent trade value together. If the Bucks could move the pair for a decent back up center. If these moves were possible, their roster would look like this:
PG's: Jennings, Udrih
SG's: Ellis, O.J. Mayo, Lamb
SF's: Mbah a Moute, Dunleavy, Harris
PF's: Illyasova, Udoh, Henson
C's: Dalembert, (another center...)
with room for more additions
The Bucks roster then has a lot of talent and starts to look really explosive.
WITHOUT Ersan, their predicament is a whole lot worse (and I'm not even a huge Ersan fan). Now they still have a deep pool of forwards, but not much talent there. They are thin at C and SG. If the Bucks fail to re-sign Illyasova, they have a lot of pieces to find via free agency or with some trades.
So go re-sign Ersan!
-Zack
follow me on twitter! @WisSportsPulse
June 9, 2012
Bucks 2012 NBA Draft Options
The Bucks neither won nor lost in this years NBA Draft Lottery. As predicted, they were selected the 12th overall pick. After a losing season (31-35) and with a poor recent draft history (see earlier blog entry), this years draft is more important to the franchise than any other draft in sports history (ok...maybe not that important, but still pretty important). So what direction do the Bucks turn?
Most recently, the Bucks have been in contact with Connecticut center Andre Drummond. The 7-footer may be the only true center in the draft, a position the Bucks need help at desperately. Drummond has been projected high in the draft, but could also fall to the Bucks because of his work ethic. Rumor has it that the Bucks had talked with the Bobcats about trading up to the number two pick, probably to get Drummond.
If the Bucks need to trade up in the draft, who's expendable? Ellis has already expressed plans to leave Milwaukee at the end of this coming season, so it would be beneficial to the Bucks to get some long term value from him. Gooden has been shopped around the league already. Though he's aging, a good statistical season last year may have his value at it's highest level in some time. Aside from these players, everyone else (in my opinion) either has no trade value or is not expendable.
So back to my original intentions here: what do the Bucks do with the 12th pick in this draft? I would like to see the Bucks continue to play a running, fast paced type of offense, a la the Phoenix Suns of the past. In this case, they wouldn't need a prototypical NBA center like Drummond. I would rather see the Deer go in one of these directions:
Perry Jones III – P. Jones would be a great fit at PF if the Bucks should choose to play an uptempo style. He has a similar body and skill set to Kevin Durant when he was chosen 2nd in the 2007 NBA Draft. Durant registered for the draft at 6'10", 215 lbs. Jones is a bit bigger at 6'11", 235 lbs. (draftexpress.com). Jones is athletic and long like Durant, but is not as good of a perimeter scorer or ball handler. The Bucks could use some explosive players to compliment their endless role players. Perry Jones can be that guy. His soft touch makes him good around the basket and going at the rim, but scouts want him to develop his shot to become a more consistent scorer.
Terrence Jones – Terrance Jones has a similar body and skill set as Lebron James when he was selected 1st in the 2003 Draft. Lebron was 6'8", 245 lbs. T. Jones registered at 6'9", 252. T. Jones has a capable jump shot (albeit streaky) and can put the ball on the floor and beat defenders to the rim. Scouts say he has the skills and ability to play the 3 in the NBA, but is better suited for a 4 in an uptempo offense (my vision for the Bucks).
By comparing these guys to Durant and James, I'm not saying they're going to come in and be MVP's, but it does show that they have the gifts and potential to be stars at the NBA level. Both players would be explosive 3 or 4's for the Bucks. The Bucks could start Jennings, Ellis, Delfino, a Jones, and Gooden. Though they would still lack a center, they would be a tough offensive group to slow down.
The Bucks should NOT pick:
Tyler Zeller – He's another soft, role player. He could be a good answer for their lack of a center, but I don't see him being much better than a Joel Pryzbilla type.
A guard – Unless they plan on dealing Ellis, it would be stupid to draft another guard. They are stacked at the position already and have plenty of needs to address elsewhere. Rivers, Beal, Marshall, and the like are going to be good NBA players, but wouldn't help the Bucks. (Again, only if they plan on hanging on to Ellis)
Hopefully the Bucks will keep up with the Joneses and take my advice!
-Zack
follow me on twitter! @WisSportsPulse
stats from draftexpress.com
April 23, 2012
Really?
Any Milwaukee sports fan grows up hearing the words "small market" over and over. Milwaukee is too small of a market to generate profit like the Chicago's, L.A.'s, and New York's of the sports world, and players don't want to come and play here. So the only way for the Bucks and the Brewers to be competitive is to draft well.
The Brewers have been successful in the draft, as of late. Prince Fielder, Ryan Braun, Yovani Gallardo, Corey Hart, and Rickie Weeks were All-Stars that were drafted and developed in the Brewers system. Great drafting and developed prospects also allowed the Brewers to move many of their successful young players for big name players now. This has allowed them to be competitive for the past three seasons and with hope for the near future. The Brewers set a club record for single season wins with 96 last season.
The Bucks, however, have not had similar success in the draft. Dismal selections have left the Bucks to rely on trades to keep the team afloat. But as previously stated, many of these players don't want to play for the small market Milwaukee Bucks. Most recently, rumors that recently acquired Monta Ellis has expressed feelings to move on from the Bucks as soon as his contract expires in 2013.
Let's take a look at the Bucks first round draft history since 2000.
2000 – Pick 15: Jason Collier (5.6 ppg) traded for Joel Pryzbilla (4.0 ppg), 4 years with Bucks
2001 – No RD 1 pick.
2002 – Pick 13: Marcus Haislip (3.5 ppg), 2 years with Bucks
2003 – Pick 8: T.J. Ford (11.2), 2 years with Bucks
2004 – No draft picks
2005 – Pick 1: Andrew Bogut (12.7 ppg), 7 seasons with Bucks
2006 – No RD 1 pick
2007 – Pick 6: Yi Jianlian (7.9 ppg), 1 season with Bucks
2008 – Pick 8: Joe Alexander (4.2 ppg), 1 season with Bucks
2009 – Pick 10: Brandon Jennings (16.7 ppg), still with team
2010 – Pick 15: Larry Sanders (3.9 ppg), still with team
2011 – Pick 19: Tobias Harris (4.4 ppg), still with team
*Career ppg, stats from espn.com
I would consider Bogut and Jennings to be good picks, aside from that the rest are junk. The majority of these players spent two or fewer years with the team. Sad. The only way the Bucks will ever be competitive in the NBA is if they start drafting better. In the last 10 years they've had five top 10 picks, and none of them have been an All-Star. Albeit, Brandon Jennings has the opportunity to get there in the near future. But even the young, drafted stars on the current roster don't want to stay. Both Illyasova and Jennings have expressed a willingness to leave Milwaukee for better money.
Where do the Bucks go from here? I don't want to suggest "blowing-up" this team, because they're only one legitimate big man away from making the playoffs in a top heavy Eastern Conference. However, they do need to make some big changes. Skiles has taken the team about as far as he can. Their new, fast paced style isn't his forte, plus I can't understand how he gives minutes. D'Antoni coached this style successfully with the Suns for years, and is available. Sanders shouldn't play, other than for a defensive substitution at the end of quarters. Gooden is expendable. If they can find one big man that can keep up with a running team and plays good defense (a Tyson Chandler type), they're a top five team in the East. The answer may be in the forward/center filled draft, as long as they don't end up with Zeller, another soft, white dude. If you could bulk up Perry Jones or John Henson, they'd be a perfect fit. Around the league, there aren't too many options here that the Bucks can snag. Al Jefferson is another good fit, but he's a year away from entering free agency. Unless you can make a trade for Jefferson without destroying the young core, the answer lies in the draft.
The Bucks will have an interesting off season deciding whether or not to trade Ellis, and how to approach the draft. Hopefully, it'll be fun to follow. Something in me knows we're still drafting Zeller...
-Zack
follow Wisconsin Sports Pulse on twitter! @WisSportsPulse